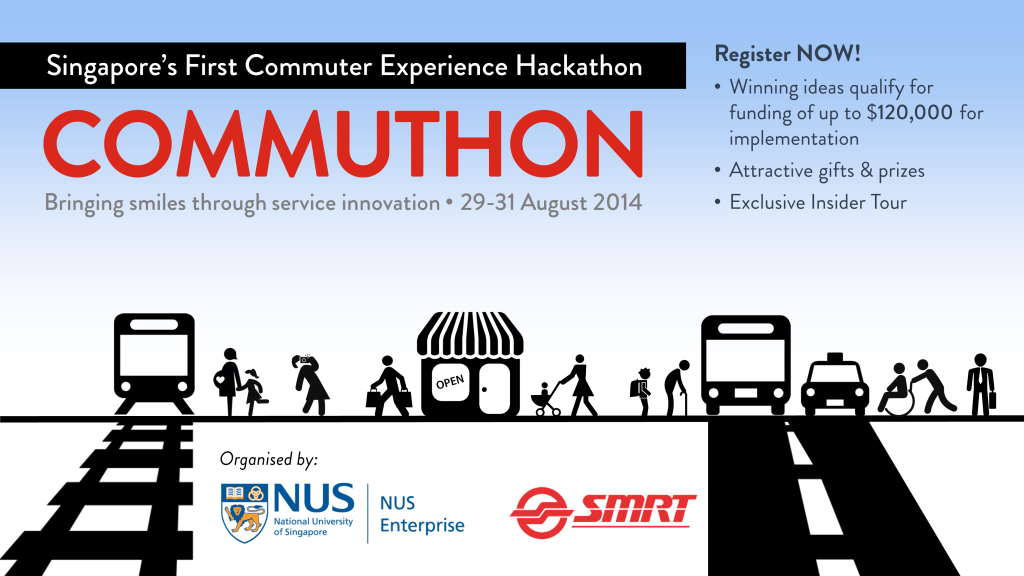 NUS-SMRT Commuthon: Singapore's First Commuter Experience Hackathon is taking place from 29 to 31 August!
NUS Enterprise and SMRT present the first ever commuter experience Hackathon in Singapore and we invite you to hop on board.
Everyday millions of commuters are served by SMRT's Trains, Buses and Taxis operations island-wide. In meeting our transportation needs, SMRT is constantly looking for innovative ideas to improve its products and services. SMRT welcomes ideas from programmers, developers and aspiring entrepreneurs to help improve commuter experience through Commuthon.
Beyond winning attractive prizes, participants will benefit from networking and connecting with various industry and varsity partners, as well as the introduction to NUS Enterprise's support and resources for starting up businesses.
Exclusive Insider Tour
There will be an Exclusive Insider Tour on 22 August 2014 specially arranged for participants so as to gain a better understanding of the transportation industry, Commuthon challenges and datasets prior to the Commuthon event!
Do not miss this opportunity for exclusive insights to the transportation industry.
Commuthon Highlights
Participants can choose from any one of five categories (Train, Bus, Taxi, Commercial and Open) to work on. The Problem Statement is now available at https://eventnook.com/event/commuthon2014/Problem-Statement
Winners stand to win over $500 worth of prizes and start-up support from NUS Enterprise. Selected winners will also receive funding of up to $120,000 for implementation of their ideas.
Spaces are limited. Register your interest now to avoid disappointment!
Attendance is strictly by prior registration only. Walk-Ins will not be entertained.
The registration for the Commuthon is closed due to overwhelming response. We thank you for your kind understanding.
Why sign up for Commuthon?
Make a difference by providing solutions to enhance the commuting experience through better service connectivity, greater convenience and more seamless engagement with the service provider and other passengers on the SMRT network.
Connect
Meet and collaborate with aspiring innovators and entrepreneurs in the transport scene.
Enjoy exclusive access to transport and business ecosystems, industry experts and contacts.
Change
Be part of the smart revolution of one of Singapore's largest train, bus and taxi operators at this first ever commuter experience hackathon in Singapore.
Achieve
Participating teams with outstanding applications will stand a chance to receive hotdesking space, mentorship, grant support and more from NUS Enterprise should they wish to bring their ideas to fruition.